Monica's Silent World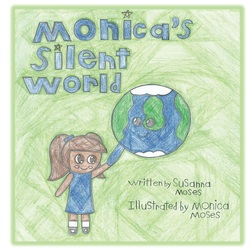 Monica's Silent World
, written by Susanna Moses is the first in a series. The series follows an extraordinary young lady through life with Autism. Born a neuro-typical, healthy baby with normal development, Monica lost all motor and cognitive abilities at twenty months of age and regressed to the developmental state of an infant within days. The CDC released a report in March of 2013 which suggests that
1
in every
50
children in the USA has Autism, much higher than the CDC report released in 2012 of 1 in 88. Sadly, the rate is still increasing.
In this book, you will experience life through Monica's mind and gain an understanding of the way she perceives and reacts to everyday experiences. The unbreakable bond with her mother and Monica's phenomenal resolve, have helped her overcome obstacles that would cause most adults to cower. A day in the life of a person with Autism is an adventure -- for Monica and her family, it has been an unforgettable journey full of tears, triumphs and immense love!
This series aims to change the hearts and minds of readers, clarify behaviors and ease the fear many people have that causes them to ignore or to evade beautiful people who have autism. Susanna says, "Monica and I desire to be a voice for these incredible people. We wish to bridge the gap between the general population and persons with special needs".
To read more about their incredible story, Monica's remarkable recovery and self-developed talent as an artist, please visit
www.susannamoses.com
or
www.mosespublishing.com
. The series and other works by the Moses' are available for purchase on these sites.
---
Nectar the Unique Bumble Bee - Coming Soon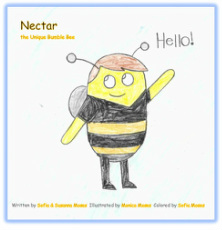 Nectar is a 5 year old bumble bee who was born without a stinger and no one knows if he will ever grow one. This makes him fly a little crooked and make a silly noise. He has other friends who also are "different" and they too have been teased. On a Pre-K to 2nd grade level, it teaches about the effects of bullying and the importance of being nice to everyone, despite differences. Sofia has witnessed some teasing of her older sister and other children. Five Year Sofia told her mother, Susanna, that she wanted to "talk to other little kids about being nice and not teasing". She created Nectar the Unique Bumble Bee, the story line and is the colorist for the illustrations drawn by her big sister, Monica.
---